Rollups:
A Roll Up is an exhibition system like billboards, banner advertisements and displays. A great solution for presenting a company and their products in a wide variety of places, like schools, exhibition halls, conferences, shops and more.
We offer quality at low prices – a complete Roll Up in an aluminum cassette and including a transport case.
Roll Up systems can be put up in under 30 seconds, wherever a quick, visible and elegant presentation is needed. We offer both high end and low price solutions.
Example 1:
Example 2: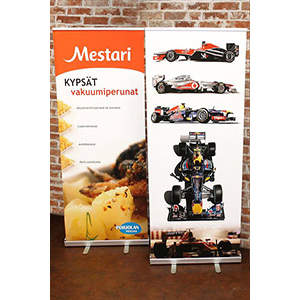 Example 3:
Example 4: